The weather in Chania is an important factor in shaping its attractiveness. It is mild Mediterranean – dry and thermal (high sunshine throughout the year, very little seasonal variation in temperature, and a lack of extreme weather events).
In spring temperatures range from about 16°C to 24°C. During the summer, average temperatures range from around 25°C to 30°C, with maximum temperatures reaching as high as 40°C. Melting winds, however, moderate the warm atmosphere.
In autumn, the mildest season in Crete, the average temperature ranges from 13°C to 20°C and the weather is suitable for swimming in the sea.
Winter is quite mild with the average temperature ranging from about 12°C to 13°C. In general, eastern Crete is warmer than western Crete, the southern part of the island is warmer than the northern part, the western part of Crete has more vegetation and in the mountainous areas, the weather is cooler.
Weather in Chania – forecast 7 days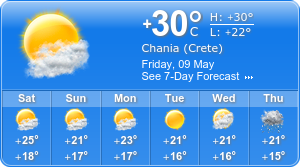 Weather in Palaiochora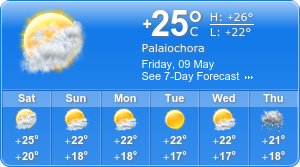 Chania Forecast
weather forecast Chania by meteo
FAQ
What month is Crete hottest?
July and August are the hottest months with an average daily temperature of 30°C, with maximum temperatures reaching as high as 40°C. 
What is the temperature in August in Chania?
Temperature hovers around 29°c and at night it feels like 21°c. In August, Chania gets 18.63mm of rain and approximately 1 rainy days in the month.
What is the average humidity in August in Chania?
Humidity is close to 63%.
More: Traveler information – Chania webcam
tags: Chania weather forecast 21 days, weather chania 15 day forecast, chania weather forecast 14 days, weather chania 10 days, crete weather 14 day