The Samaria Gorge is Greece's largest, and crossing it is the major reason for many people visiting Crete. The 14.5km descent takes between 4 and 7 hours, depending on the hikers' skill and stamina.
Many smaller gorges are vertical to Samaria Gorge, some of which have never been crossed by humans and require canyoning equipment.
While the gorge is technically 15 km, this measurement relates to the hiking distance between the Omalos town on the northern side of the Omalos plateau and the village of Agia Roumeli.
The gorge is 13 km, beginning at an elevation of 1,250 meters at the northern entrance and finishing on the coasts of the South Cretan Sea near Agia Roumeli.
The trek through Samaria Natural Park is 13 km, from the ticket kiosk at Xyloskalo to the kiosk at Agia Roumeli old village, but you must walk 1.5 km longer to reach Agia Roumeli's beach, making the journey a total of 14.5 km.
Tips
There are many fresh-water springs along the route. Water is potable
The gorge of Samaria is equipped with advanced security systems to ensure communication in case of an emergency.
All along the trail, officials dress features portable transceivers to communicate among themselves and with Xyloskalo, Samaria, Agia Roumeli, and the offices of the Agency in Chania where base stations are installed to ensure the safety of humans within the gorge and tackle an emergency.
Samaria Gorge, Chania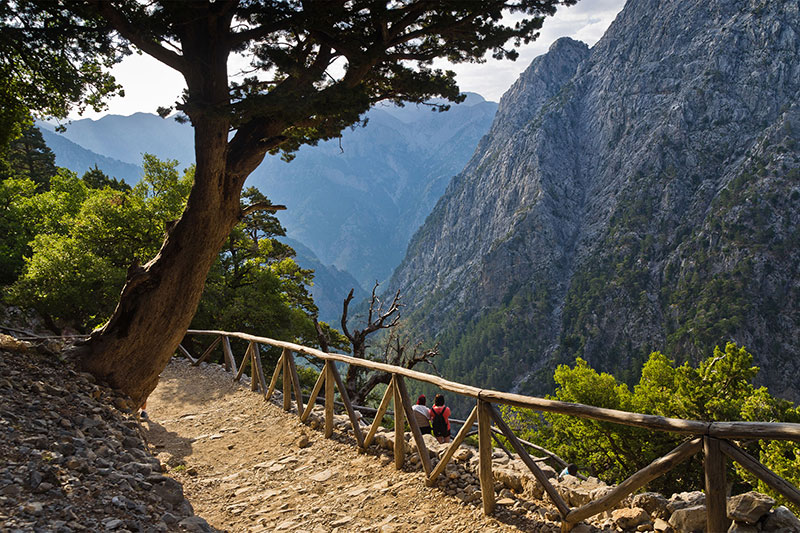 54+ photos from greekomania.com